Decision (判断, Handan?) is the seventh volume of The Promised Neverland series.
Synopsis
After learning the truth of the world they find themselves in, the orphans finally make their way out of the forest. With their improved survival skills, Emma, Ray and the other children arrive at the location laid out in Minerva's hidden message. But awaiting them there is a new kind of challenge…
Cover and Volume Illustration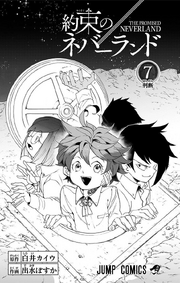 The cover has the series title coloured in red with a with outline. In the center of the page sit the escaped orphans of Grace Field House who are all seemingly looking at the reader. From left to right there's Anna, Gilda, Emma, Ray and Don. They are sat in what appears to be Shelter B06-32.
The Illustration features Gilda, Emma, Ray and Don half popping out of the entrance to Shelter B06-32, seemingly greeting someone by the expressions on most of the orphans' faces.
Chapters
Chapter Covers
Author Notes
Extra Pages
Reception
Commercial Performance
During the first 3 days of its release, an estimated total of 164072 copies were sold, thus earning the first position on the highest manga sales in Japan alone during the first week of 2018 from 1 to 7 January.[1] During the following week, an estimated total of 90179 copies were sold, and still remained as the number 1 highest selling manga in Japan from 8-14 January.[2]
During the third week, from 15–21 January, it dropped to the eighth position with 19156 copies sold.[3] 24052 copies were sold from 22–27 January, achieving the sixteenth position.[4] It later dropped to the twenty-ninth position with a total of 17781 copies sold during the subsequent week.[5] 12280 copies were sold following on from 5–11 February, ranking as the forty-seventh highest selling volume.[6]
Currently, an estimated number of 347520 copies were sold in total from 4 January to 11 February 2018.
Critical Response
Awards and Nominations
Some time after Volume 7's release, The Promised Neverland was nominated for the 22nd Tezuka Osamu Cultural Prize. The awards commemorate the contributions of the manga pioneer Osamu Tezuka, with works that are regarded as classics such as Astro Boy, Kimba the White Lion and Black Jack, by recognizing the manga that best follow his traditions.[7][8]
Later in 2018, the series as a whole won under the category of "Best Shōnen Manga" in the 63rd Shogakukan Manga Awards, one of Japan's major manga awards. The series was honored with a bronze statuette and a prize of 1 million yen (about US$9,000).[9][10]
References
Community content is available under
CC-BY-SA
unless otherwise noted.