Welcome to The Promised Neverland Wiki, a mediawiki-based encyclopedia dedicated to everything about Posuka Demizu and Kaiu Shirai's collaborated masterpiece manga The Promised Neverland. We are striving to be the most known encyclopedia that covers information about The Promise Neverland franchise. We are trying to become a more informative encyclopedia to support fans globally.
We are more than happy that you can join us with reaching our main goal. You can start by creating an account and help out instantly. Please help us by creating or editing any of our articles!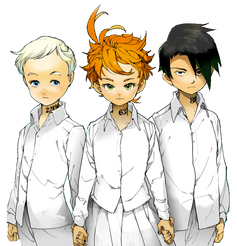 Norman, Emma, and Ray are the brightest kids at the Grace Field House orphanage. And under the care of the woman they refer to as "Mama," all the kids have enjoyed a comfortable life. Good food, clean clothes and the perfect environment to learn- what more could an orphan ask for? One day, though, Emma and Norman uncover the dark and twisted truth of the outside world they are forbidden from seeing. Soon, they must make haste to plan their escape!
Vida

---

A Vida is a vampiric plant used to extend the shelf life of a meat which functions by absorbing the blood. It is used among the higher ups in the premium plantations to kill the orphans who are shipped out cleanly. Vidas are seen throughout the show like when it was used to kill Conny and Krone. The Vida is based off of a real life flower known as Red Spider Lily, which is commonly associated with death in Japan and are used in funerals to pay tribute to the dead.
The latest manga chapter synopsis for The Promised Neverland can be found here.

Inaccurate info and spoilers abound: browse at your discretion. Editors, please provide sources for contentious or spoiler info.

RSS Feed

Loading RSS data...
Help Out
Questions? Feel free to ask on our local Help Desk
---
To create a new article, simply enter the article title in the box below:

Please check our policies before you get started. These are guides for your contributions.

Trouble getting started?
If you are new to wikis, check Help:Getting Started
Don't be afraid to just jump in and start it! Others can edit and improve whatever you make.
Check out the community portal to see what the community is working on, to give feedback or just to say hi.
Help the wiki by editing article stubs and creating wanted pages.

Please visit our local Affiliation page to understand the guidelines and rules before you want to affiliate with us.
What surprises you the most in season 1?
Do you think Norman will be the future villain (or anti-hero) of the series?
Spring Season 2019 Anime Wikis

TV Anime

TV (Multiseason)

ONA




OVA

Specials

Film