Susan (スーザン, Sūzan?) is a minor character of The Promised Neverland and a recurring character from the A Letter from Norman light novel.
She was a 12-year-old orphan who resided at Grace Field House Plant 3 under the parental care of Isabella. She was 2 years older than Ray, Emma and Norman, and cherished the trio more than anything. She was especially close to Ray, and the first person who implied the truth of the orphanage to.[1]
History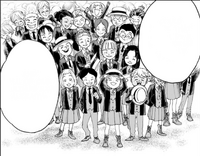 Susan was born at Grace Field in 2032 and sent to Plantation 3 a year later in 2033, growing up along with several other children under the parental care of Isabella. In 2044, at the age of 12, Susan was shipped out of Grace Field and was killed and fed to the demons, presumably those of high-ranking in the Imperial Capital.[2] Normally shipments happen roughly once every 2 months. However, Susan was shipped out abruptly only a week after the previous child, Jimmy, was shipped out. It was implied that Susan was shipped out to be the meal during the Tifari, and as such did not even get the option to train to become a Sister or Mama.[1] Susan was the child shipped before Marcus.
Appearance
Susan was a young fair-skinned girl who stood at an average build and height. She had upper-back length black hair with two locks of hair framing her face. She bangs were evenly cut and styled into a middle part. She wore the standard Grace Field uniform- a plain white long sleeved button-up shirt and a white skirt along with brown boots. The number "70294" is tattooed on the left side of her neck.
Personality
Susan was described as a headstrong girl who was apparently like the perfect fusion of Ray, Norman, and Emma. Similarly to Emma, she was kind, cheerful, friendly, well-tempered, and mature. She was very athletic, and was implied to have a full score on her tests. She was also loving, empathetic, and reliable, and cherished Ray, Norman, and Emma deeply. She always went to Ray when in need.
At the same time, Susan was incredibly perceptive, as she picked up on things that no one else did. For example, she noticed the slightest changes in emotion on Ray's face, and although she couldn't always understand him or the other children around her, she tried her best to do so. Despite her kindness and wanting to help everyone, she was morally ambiguous and could be selfish at times.[1]
Relationships
Susan was especially close to Ray, and was the first person who Ray implied the truth of the orphanage to.
Trivia
Susan made a cameo in The Promised Neverland anime's first and second ending theme songs, Zettai Zetsumei and Lamp respectively. Susan was the girl who was in her shipment clothes, longingly looking out from a window.
Susan dislikes bugs, especially worms.[1]
Gallery
References