Sonya (ソーニヤ, Sōniya?) is an orphan from the Grand Valley orphanage and a former member of the Goldy Pond Resistance, where she acted as the Second-in-Command.
History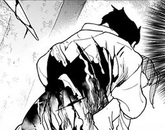 Sonya spent her childhood in the Grand Valley orphanage, growing up along with several other children. At some point, she was shipped out and sent to Goldy Pond. Eventually, she was recruited by Lucas into the Goldy Pond Resistance and became Oliver's second in command.
While at Goldy Pond, someone Sonya was close to was killed while trying to protect her.[3]
Appearance
Sonya is a girl with light skin and freckles on her cheeks. She is originally seen wearing thin-framed glasses, and her light blue hair is in low pigtails. In 2047, Sonya no longer has glasses and she keeps her hair down with a ribbon around a few strands on either side of her face.
Personality
Sonya is a calm and cool-headed girl. She thinks logically, makes plans, and doesn't hesitate to order others around. One could say she's a contrast to Oliver's more impulsive demeanor.
Plot
When Sonya learned about the Human World, she adjusted the plans to include Emma.[4]
She tells how others were hunted to get information on demons to prepare to fight as they agree.[5]
Sonya fights Nouma and Nous along with Paula and Sandy. Even though Sonya gets caught, Paula shoots Nouma and frees Sonya. The squad eventually successfully kill Nouma, but Nous devours her and absorbs her being; this results in grave injuries to Sonya and Paula, while Sandy is horribly beaten.[6] However, all three of them survive the battle.
Skills and Abilities
Data
It is known that Sonya is skilled at compiling data and use them in strategy to fight the demons.
Trivia
Sonya is good at making mental calculations.[1]
References