The subject of this article has no official name

It is a fan-given name for the substitute lack-thereof, the name is either an alias, surname or nickname. You can help The Promised Neverland Wiki by

expanding it

.
The previous Grandmother was a staff member working in the premium farms, who formerly runs the place before Sarah replaced her as the farms' Grandmother. She is a minor character of The Promised Neverland series.
History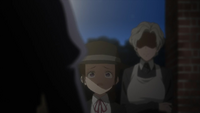 Around 20 years ago, a young Isabella failed to escape Grace Field House, and was shipped out after getting caught by her caretaker. Isabella arrived at the gates, and was shocked when she sees the Grandmother and a demon standing behind her. The Grandmother soon reached her hand out to Isabella, giving her the decision to either become one of the premium farms' caretaker or die and be fed to the demons. Isabella chose the former, as she shook her hand.[1]
As on 2046, the Grandmother's status remains unknown, but Sarah inherited her role.
Appearance
The previous Grandmother heavily resembled present day Sarah, she has short, curly and symmetrical grey hair, a few wrinkles between her nose and lips. She wore a black dress with a high collar (possibly the attire for her occupation as a Grandmother) and part of her facial features were not shown.
Trivia
The Grandmother's presence showed how the role of being a Grandmother can be pass down to a caretaker after one stepped down. In this case, her role was passed down to Sarah.
References
Community content is available under
CC-BY-SA
unless otherwise noted.