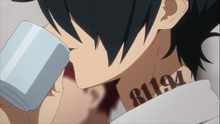 The Numbering on the neck is a standard identification procedure for all children that come to the orphanages. Like animals, they are marked before they reach the farm. These marks are on the left side of the neck and are 5-digit numbering. Mamas and Sisters, like any other adult human in the Hierarchy of the demons, have a numbering.
Understanding and Analysis
At first glance, the numbers appear to be random except for the fact that they all have five digits. However, by reading the numbers back and forth, they have a clear order.
All children at Grace Field House have their numbers ending with 94. Isabella and Krone both have their numbers ending with 84. With this info, it is possible to estimate a birth order.
The diagram below is organized according to the age of the characters.
Theories derived from the numbering
There is an estimate quoted in the manga that freight shipments range from 4 to 5 per year per farm. The 15-year interval between Isabella's and her son Ray's numbering indicates that 500 children were transported. If the date of the "invasion" of the demons was correct (about 30 years ago), then the numbering of the children began around the number 48000.
Unique Identifiers
It is later revealed that this kind of 'marking' is unique to and used only inside the Grace Field House. The other 3 Premium Farms use other ways to mark the children.[1] This differs greatly from the Factory Farms who use brands to mark their livestock.[2]
Trivia
In a commentary on the 12th edition of Weekly Shonen Jump, Kaiu Shirai commented that there were people who already discovered the pattern of the reversed numbers and this surprised him.[3]
References
↑ The Promised Neverland Manga: Chapter 56, page 7
↑ The Promised Neverland Manga: Chapter 56, page 7
↑ "We are still in Volume 2 and people have already deciphered the rule behind the numbers and discovered the ID of the human farm! Fantastic!" "
- Commentary on Issue 12 of 2017
Community content is available under
CC-BY-SA
unless otherwise noted.