Jessica (ジェシカ, Jeshika) is a character in the special pilot chapter A Mother's Determination. Born and raised on an unknown plantation at Grace Field House, Jessica now works as a sister at Grace Field Headquarters.
Appearance
She had long dark hair and light eyes, She wore the standard orphanage uniform made for the plantations' Sisters, which consists of a black dress with a white blouse underneath it and a white apron over it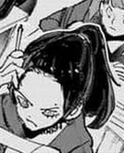 Personality
She is known to be cunning, manipulative and calculating, becoming sister was a quick process for her but loving the children was more difficult than the tests
Relationships
Like every sister in the chapter, she is shown to resent her for being alive despite making a big mistake, she also acknowledges Isabella to be perfect and admits that the way she raises children is exceptional and is a valuable person, nonetheless she is grateful towards her.
References
TBA
Trivia
See Also