Hao (いいです, Īdesu) is one of the minor characters of The Promised Neverland.
History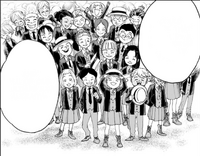 Hao was an orphan who formerly resided at Grace Field House Plant 3 as one of the many foster children of Isabella and appears in chapter 2 as a flashback. He was shipped in August 2045. Although much is not known about his past, it appears that Emma has a deep regard for him, as he is a part of Emma's "family". He was shipped on August 8, 2045. Hao was the child shipped before Conny.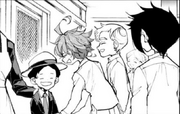 Appearance
Hao is a little boy with black hair. He appears to have monolid eyes. The number "69294" is tattooed on the left side of his neck.
Personality
Hao's personality is not shown much in the manga , but he appears to look very ecstatic and energetic.