This article is about the Anime version of Gilda. For alternate pages referred to by this name, please click any of the icons above.
Gilda (ギルダ, Giruda?) is one of the major characters in The Promised Neverland anime. She is a 10-year-old orphan who formerly resided in the Grace Field House. Being one of the smartest children after Emma, Norman, and Ray, Gilda is considered as one of Grace Field House's "good quality goods". A quiet but firm girl, she is brought into the escape plan alongside Don after the truth of the orphanage is revealed.
After her success of escaping Grace Field alongside 14 other orphans, Gilda now seeks to find William Minerva, whom she and her team believe can grant them the liberty to live a safe and peaceful life away from the demons.
History
Gilda was born in 2035 and sent to Plantation 3 a year later in 2036, growing up along with several other children under the parental care of Isabella.
Appearance

Gilda is a young girl of average height with fair skin. She wears a big pair of circular-lensed glasses over her grey eyes. She has short, straight olive drab hair kept in a Chinese bob hairstyle. Like all the other children at the orphanage, she wears the standard uniform— a white shirt and skirt along with plain brown shoes. Her identification number, "65194", can be seen on the left side of her neck.
Personality
Gilda is a quiet, gentle, mature, and slightly introverted young girl. She is reliable and often helps around with chores around the House and plays with the younger orphans. She has a caring personality and gets along well with her siblings, especially Emma. Her consideration is further shown when she expressed concern for the other cattle children in the other plantations prior to their escape. She is also shown to intuitive, as she knew that Emma was hiding something during the planning of the escape. While she comes off as more docile and timid compared to Emma, she shows surprising displays of nerve when she and her friend's safety is in danger, such as when she lies to Krone to obscure what she's learned about the orphanage. She is also shown to be determined and brave, as she refuses to back off in their escape plan even after hearing that it could kill them.
Plot
Gilda is first seen when Mama calls all the older children to help her with chores around the house. While cleaning, she takes Don and goes to another room. The next day, a child runs to her and asks where Emma is. She says, she doesn't know and makes a sad face. Later on, she and Emma go to bathe and dress the toddler since they are the only two allowed to. While putting them to sleep, she looks at Emma and tells her she's really good with babies and that she could tell Carol already loves her. Gilda then approaches Emma to ask her about "That Night", but is interrupted when Emma starts checking Carol. She then asks if Carol had bug bite behind their ear
Gilda, along with Don is summoned by Norman to the library. In there, Emma and Norman tell them that Conny has been kidnapped and sold, to which she easily believes and starts crying. Later on, she is seen talking with Emma and sleeps on her bed. When Emma had fallen asleep, she got out of the room and went ahead to meet Sister Krone secretly. Emma, waking up, on the other hand, decides to follow them and listens to their conversation from the other side of the door. Meanwhile, Gilda tells Sister Krone that she has nothing troubling her, to which Sister Krone replies that Emma had told her everything. Gilda having thought that Sister Krone had seen through her, panics. But having realized that she might have been lying, she tells Sister Krone that she has nothing troubling her at all. Gilda leaves but right before she goes out, Sister Krone whispers something in her ear. Going out of the room, she sees Emma and tries to explain what happened but was surprised when Emma hugs her. She then thinks about what Sister Krone had whispered to her, that, if ever she finds out that Emma is lying to her, Gilda should just tell her about it.
When Emma, Ray, and Norman began to suspect that one of the other children is a spy working for Isabella, they decide to share the secret behind the House, Isabella and the human trafficking with Don and Gilda. Norman and Norman talks to her and Don about the truth about the house but Norman refused to tell that their siblings was eaten by a demons. Gilda knows Emma well enough to know she'd never joke or lie about such things. Norman lies that the kids who left were victims of human trafficking, since the cold reality might just be too much. That night, Emma pretends to sleep and watches Gilda sneak out of the bedroom. What Emma can't see through the door is that someone I initially believed to be Gilda slips a piece of paper under Isabella's door with the location of the rope: under Norman's bed. It must be noted that Norman told Ray that he'd tell Don it was under the bed, not Gilda. After the paper is delivered, Gilda visits Krone's room, and Emma listens in from behind that door. Things get a little tense in there, with evidence wavering between Gilda being Krone's informant and not, but in the end, Gilda does what Emma hoped for and refuses to give up any information. Gilda and Don feel left out of most of the private convos between the other three, but Gilda and Emma start observing Mama more closely.
Gilda and Don ultimately both agree that an escape attempt is the only choice. Gilda and her siblings escape from Grace Field House on January 15, 2046.[3]
Gilda and the other Grace Field children begin their journey to find a safe place to live. The children stay within their pacts while exploring the wide forest. Gilda and Don both do their jobs of making sure the children don't wander off too far without them. As the night carries, the wild demon chasing them. Don and Gilda make the signal for their groups to split into two. As Emma, Gilda and Don all meet up once again, Emma explains Ray's plan to them. When Emma collapses due to the wound in her ears, Gilda and her family saw something, She said it might be a human because Krone told them that there is humans outside. Gilda and her family trust her.[4]
Mujika saved them and she let them stay with them for 1 week. Sonju and Mujika teach them basic skills how to survive and Don was able to learned all of it. As Anna patches up Emma's wound, Gilda tells her to tell everyone next time if she's feeling too sick or can't do well. She shouldn't have to suffer a sickness without telling anyone.[5] 6 days passed away and the children already came out of the fore and they could finally go to the shelter. Gilda and her family have reached the shelter and they went into it. The children saw the kitchen, bath, garden, library and big room. Emma, Ray, Don, Gilda, Anna and Nat went outside to play the radio and the radio said everything is normal at the Plant One and Plant Four. Emma, Ray, Don and Alicia went on a secret room and they heard the the phone is ringing. Emma answered the phone and the one who is calling is William Minerva.[6]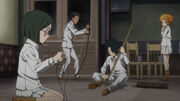 They start to do everyday activities using the skills they learned in the forest: Foraging, hunting, playing in the desert, growing their own vegetables among other things. Anna writes in her diary what they do on a daily basis. Don and Gilda scan the radio and CCTV system for anything unusual, but find everything normal. Soon, the children get a little antsy due to the lack of choices in food for themselves, as they're tired of eating the same thing day after day. After a heated debate, Emma and a few others agree to find some new food to eat. Their life in the shelter lasted only a month because they were attacked by house pursuers. They managed to escape their attack. But they were immediately caught but the wild demon ate the house pursuers and the children ran into the forest as they were being chased by the wild demon,[7]
Along with her family after the attack in the shelter they are living in the temple. Don, Emma, Ray and Gilda came back they wear demon costumes so they can buy food in the demon village. The old demon came to the temple and he told the children not to stop alone in the temple of the evil blooded. This demon did not know that they were human so they were afraid until the old demon left. Anna, Emma, ​​Ray, Don, Gilda and Nat listened to the radio again to find out what was going on there. They went back to the demon village to buy but they were caught by 2 demons.[8]

Gilda saw Norman and she was surprised that Norman is alive. She found out Norman's plan.[9] and she found out that Emma don't want to kill the demons and she supports Emma about it. He wants to help Ray and Emma to find Sonju and Mujika.[10] They are finding them everywhere until one location remains. But they saw a wild demon and it is chasing them. Mujika and Sonju arrived and Sonju killed the wild demon they ask them why aren't they in the shelter but Don said hey will explain it later. They ask help for Sonju and Mujika and they agreed to help them but they heard a explosion and they think it is explosion from the wild demon. They went to the demon village and they saw what Norman had done to the demon village.[11] Don asks Sonju where Norman is but Sonju says only for a moment because he brought back a wild demon with his evil blood. Don and Gilda saw what he did. They returned to the temple and talked about how they could save Phil and the others.[12]
Gilda and the others prepare to rescue Phil and the others. Gilda and other manage to go inside. They head to the elevator where everyone reunites. Ratri with the sisters and moms takes in the defeat of the children, and asks them to stand down and surrender but Isabella and other sisters and moms side with them and oppose Ratri.[13] Gilda sees Emma reconciling with Ratri but he commits suicide. They succeeded in reaching the door to the world of human. When they came out they saw that the trio, Barbara, Cislo and Zazie had not come along. Gilda was hesitant about this but they understood them.
They succeeded in reaching the human world. They lived there peacefully, Gilda looked up at the sky while drinking coffee. Gilda and the others saw that the five had arrived after a few years and they were together again. [14]
Relationships
Out of all the orphans, Emma is the closest to Gilda. Despite Gilda's teamwork morals and reserved personality and Emma more cavalier attitude, the two see each other as close friends regardless. Gilda acts as a motherly/sisterly figure towards Emma and deeply cares for her well-being; when Emma risked her life to save the orphans, Gilda pinpointed on her recklessness and scolded the latter.
She sees Norman and Ray as brotherly figures and cares for them greatly. Gilda holds respect for them and their choices and is confident in both of their abilities.
Don and Gilda are shown to be rather close friends and it is shown that she is able to calm him down when he is angered or saddened. The two are often seen beside each other and it is shown that they trust each other greatly
Not much has shown to Anna and Gilda's relationship but they seem to be close friends
Gallery
Trivia
Gilda's wish for when she leaves the orphanage is to wear more fashionable clothes.[15]
Gilda is ranked 9th in the official anime Popularity Poll that was announced after episode 17