131045 is the second episode of The Promised Neverland anime. It aired on January 18, 2019.
Summary
After the revelations in the last episode, Norman and Emma have to keep their cool in front of Mother and the other children. Emma struggles with this in particular, angry at Mother's blasé attitude, but forces a smile on her face. While maintaining their cover, the duo also begins working on the beginnings of an escape plan. But the deeper they look into their lives and the world built around them, the more they realize how much surveillance they are under. A game of wits begins as Mother's suspicions arise, so let the mind games start between the captor and the captives!
Plot
Learning the truth of their home has shaken Emma to the core. She has vivid nightmares of Conny being served up as a fancy main course, can barely hide her look of terror upon hearing and seeing Mama for the first time since their discovery. But Norman tells her they have to keep smiling like nothing's wrong. Mama may know someone was at the Gate to leave the bunny behind, but she doesn't know who.
Or rather, if she does, Emma and Norman are too valuable to kill just for witnessing Conny's "processing." During playtime, Emma and Norman agree escaping through the forest is the safest way, but when they cross the short fence they soon encounter a massive, seamless concrete wall. Further complicating matters, when a little tyke is lost all Mama has to do is glance at her "watch" and she knows exactly where to find her.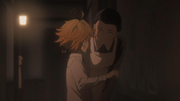 So, now they know that security is rather lax because they have some kind of tracking device implanted somewhere in their bodies. Mama seems to make a big show out of wordlessly warning the likes of Norman and Emma. Back at the house, while having a private moment of grief for Conny, Mama suddenly appears before Emma, wondering why she's been "less cheerful" of late.
All Norman can do is watch in horror around the corner as Emma puts on a cheerful front for Mama. Ray ends up bailing them both out when he rings the dinner bell, but as Emma and Norman depart, Mama asks them straight-up if they were at the Gate the previous night. They cheerfully say of course not, that's against the rules, and continue on…but Mama is definitely suspicious. You could cut the tension in the atmosphere with a knife.
Once they're alone again, neither can hold in their sheer terror anymore. Emma even collapses to her knees, but Norman helps her up with a trembling hand, and Emma sees she's not alone and all hope isn't lost. They're going to get out of here…they just need a plan.
That plan involves stashing a bunch of table linen in a tree hollow near the wall that they'll use to make rope when the time comes to escape (Norman figures they have two months left before the next child is taken). But someone followed them out to the wall; fortunately for them, it's their friend Ray, who wants to know what's up.
They tell him, and to their amazement, he believes it all without a hint of incredulity, because he knows Norman well enough to know he'd never lie about something like this (Emma being a different story). While Ray is willing to lend his not inconsiderable intellect to the big escape plan, he has a big problem with Emma's insistence that all 37 children will be escaping.
He brings up the virtual impossibility of getting everyone away from Mama and off the farm without serious or even total casualties, and something I didn't consider: beyond that wall, it's a Demon's world, not for humans. Escaping is just the first step. The young, small, and weak will have to be left behind to ensure any chance of the survival of the older, bigger, and stronger.
But Ray's way isn't going to work with Emma. She doesn't care if it's impossible; everyone is being saved, and that's that. It may be foolhardy, but Norman is with her. When Ray asks why in his otherwise right mind he'd go along with Emma's "mud boat", Norman explains simply that he likes Emma, and wants her to keep smiling no matter what, and that if dried and hardened it's possible for a mud boat to float.
Characters
Trivia
The events of this episode take place on October 13, 2045, which is one day after Conny's departure (October 12, 2045). The numerical of the said date is used as the title of episode 2, 131045.
In the manga, orphans that were shipped out of Grace Field House, Hao and Cedi, were mentioned in the first chapter of the manga, which is adapted into Episode 1, the two were, however, mentioned in Episode 2 instead. In addition, Hao and Cedi's physical appearances were shown in the manga but they were only mentioned in the anime.