This article is about the Anime version of Don. For alternate pages referred to by this name, please click any of the icons above.
I know we are not nearly as smart as you guys, but we're family, aren't we?! We're siblings right?! I just want you to have a little faith in us!— Don to Emma in "311045"
Don (ドン, Don?) is one of the major characters of The Promised Neverland series. He is a 10-year-old orphan who formerly resided in the Grace Field House. Being one of the smartest children after Emma, Norman, and Ray, Don is considered as one of Grace Field House's "good quality goods". A cheerful but impulsive boy who cares greatly about his family, particularly Conny, he is brought into the escape plan alongside Gilda after the truth of the orphanage is revealed.
After his success of escaping Grace Field alongside 14 other orphans, Don now seeks to find William Minerva, whom he and his team believe can grant them the liberty to live a safe and peaceful life away from the demons.
History
Don was born in 2035 and sent to Plantation 3 a year later in 2036. Growing up as an orphan under the parental care of Isabella, Don grew close with several other children, including Conny.
Appearance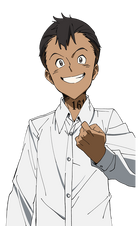 Don is a young boy with a slender appearance, dark skin, and a rather tall stature, towering over all the other children at Grace Field. He has short, messy black hair with an undercut and brown eyes. He wears the standard orphanage uniform- a white shirt and trousers along with plain shoes. Like all other orphans at Grace Field House, he has a number tattooed onto the left side of his neck, in this case, the number "16194".
Personality
Don is perceived by others to be a cheerful, energetic, happy, and social boy who is always friendly towards everyone.[3] In contrast to Gilda, he is very careless, rowdy, less inclined and talkative. He seemed to hold a rivalry with Norman, where he displayed acts of pettiness and childishness. However, he also seems to be fairly intelligent, coming around 5th place in the everyday tests after Gilda.
Similarly to Emma, Don holds a great deal of love towards his siblings and is fiercely protective and cares deeply about them. For example, he swore he would rescue Conny and the rest of the orphans when he was told they were sold off. He also wants to be seen as a person whom his siblings can rely on, so he is always determined to help out and hates keeping secrets within the family.
Don is noted to be impulsive and driven by his feelings, which Norman comments on at the beginning of the series. Some examples are getting himself and Gilda in trouble by accessing their way to Isabella's room, and using violence against Ray and Norman in a fit of anger for hiding the harsh reality. In reality, Don was upset with himself for not being able to protect the ones close to him. After this, Don expresses his desire to become stronger so he can be there for his siblings, which culminates in his decision to whole-heartedly help Emma, Norman, and Ray. Throughout his experiences, Don gains more self-confidence and boosts his skills.
Plot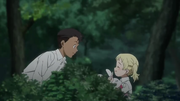 Taking daily tests, eating delicious homemade food, having a good time and wearing the same white uniform, Don went through the same routine every day in Grace Field, an orphanage where he lived since he was one year old. Under the loving parental care of Isabella, Don spent a pleasant childhood in Grace Field. Don is first introduced when Emma greeted him and Conny (and Little Bunny) while she was running around and carrying Phil.
Don is later seen asking Norman for help with fixing a clock in their room. Don, not knowing at the time, is confused when Norman starts looking at Emma when she's with Mama Isabella. Don is called when the older children have to help Mama with chores. While cleaning, he shouts that he wants to play and asks why they got chosen to do the chores. He questions if they are getting punished for something. Gilda then grabs him and pulls him to another room. When they return, he starts yelling because he sees Emma slacking off. He then continues to complain about doing chores.
When Emma, Ray, and Norman began to suspect that one of the other children is a spy working for Isabella, they decide to share the secret behind the House, Isabella and the human trafficking with Don and Gilda, although Norman chooses not to tell them that Conny is dead. Don refused to believe this and began to laugh in disbelief and ask what the 'joke is', but later comes to accept the harsh reality.
Norman later lays a trap to determine who the spy is by telling Don and Gilda the location of their ropes that night. Norman told Ray that Don was told that the rope was under his bed. Initially, Don was suspected to be the traitor since the rope under the bed was gone. However, Norman lied to Ray about telling Don that the rope was under the bed and actually gave Don a different location. When the rope under the bed was gone, Ray was the only one who could have done it because he was the only one who knew of the false location. Ray was trying to frame Don, thus revealing himself as the true spy.[4]
Don is seen to be visibly shaken by the new information he and Gilda had received, yet he starts to believe that Emma and the others are hiding something from them. Later, Emma deduces that there is a hidden room in Isabella's office where Isabella reports to headquarters. Emma, Norman, and Ray decide to not enter it. The three try to convince Don and Gilda not to go searching for the hidden room, but the pair decide to do so anyway. As Don and Gilda enter Isabella's office, they find the entrance to the hidden room. They gain access to Isabella's hidden room and find inside a communication machine, used by Isabella to report to headquarters. They also find toys which belonged to the children who left the house, which makes them realize that Conny and the other children that left Grace Field are actually dead, and that Emma, Norman, and Ray lied to them.[5]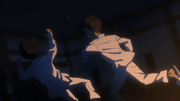 Don later confronts the trio and learns from them the true purpose of the House. When he gets the whole truth, he is so shocked and furious that he punches Norman and Ray. Don was about to punch Emma but stops and finally calms down. He then tells the three that he wanted them to believe and rely on him since they were all family. Don then timidly apologizes, leaves, and tells Gilda about how he wishes he was stronger so he could protect the ones he cares about. Don and Gilda later decide to help everyone escape. Only a week remains until the agreed-upon date of the escape, but the kids get a bit too careless in their open conspiring, and Sister Krone suddenly pops out from behind a tree to announce that she knows everything about what the five of them are plotting. However, she isn't angry, nor does she threaten them (not that she has to); instead, she suggests they "join forces" against Mama. [6]
Don played a key role in the escape, since he trained the younger children as well as created a way to cross over the cliff. Don and his siblings escape from Grace Field House on January 15, 2046..[7]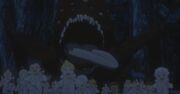 Don and the other Grace Field children begin their journey to find a safe place to live. The children stay within their pacts while exploring the wide forest, Don even saying it's much bigger than they expected. Gilda and Don both do their jobs of making sure the children don't wander off too far without them. As the night carries, the wild demon chasing them. Don and Gilda make the signal for their groups to split into two. As Emma, Gilda and Don all meet up once again, Emma explains Ray's plan to them. When Emma collapses due to the wound in her ears, Don and his family saw something, it might be a human and Don and his family trust her.[8] Mujika saved them and she let them stay with them for 1 week. Sonju and Mujika teach them basic skills how to survive and Don was able to learned all of it..[9]
6 days passed away and the children already came out of the fore and they could finally go to the shelter. Don and his family have reached the shelter and they went into it. The children saw the kitchen, bath, garden, library and big room. Emma, Ray, Don, Gilda, Anna and Nat went outside to play the radio and the radio said everything is normal at the Plant One and Plant Four. Emma, Ray, Don and Alicia went on a secret room and they heard the the phone is ringing. Emma answered the phone and the one who is calling is William Minerva.[10]
They start to do everyday activities using the skills they learned in the forest: Foraging, hunting, playing in the desert, growing their own vegetables among other things. Anna writes in her diary what they do on a daily basis. Don and Gilda scan the radio and CCTV system for anything unusual, but find everything normal. Soon, the children get a little antsy due to the lack of choices in food for themselves, as they're tired of eating the same thing day after day. After a heated debate, Emma and a few others agree to find some new food to eat. During graveyard shift, Don and Rossi monitor the CCTV system for anything unusual until dawn, while Emma tucks the young ones in before heading to bed herself. Suddenly, an explosion is heard, Their life in the shelter lasted only a month because they were attacked by house pursuers. They managed to escape their attack. But they were immediately caught but the wild demon ate the house pursuers and the children ran into the forest as they were being chased by the wild demon.[11]
Along with his family after the attack in the shelter they are living in the temple. Don, Emma, Ray and Gilda came back they wear demon costumes so they can buy food in the demon village. Thoma and Lannion reveal their demon costumes to the group and beg Emma to take them with her into town. Emma objects initially, but gives in when Don decides to take them anyway. Suddenly, a bell rings and everyone freezes. The old demon came to the temple and he told the children not to stop alone in the temple of the evil blooded. This demon did not know that they were human so they were afraid until the old demon left. Anna, Emma, ​​Ray, Don, Gilda and Nat listened to the radio again to find out what was going on there. They went back to the demon village to buy but they were caught by 2 demons.[12]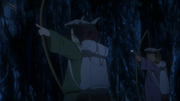 Don saw Norman and he was surprised that Norman is alive. He found out Norman's plan [13] and he found out that Emma don't want to kill the demons and he supports Emma about it. He wants to help Ray and Emma to find Sonju and Mujika.[14] They are finding them everywhere until one location remains. But they saw a wild demon and it is chasing them. Mujika and Sonju arrived and Sonju killed the wild demon they ask them why aren't they in the shelter but Don said hey will explain it later. They ask help for Sonju and Mujika and they agreed to help them but they heard a explosion and they think it is explosion from the wild demon. They went to the demon village and they saw what Norman had done to the demon village.[15] Don asks Sonju where Norman is but Sonju says only for a moment because he brought back a wild demon with his evil blood. Don and Gilda saw what he did. They returned to the temple and talked about how they could save Phil and the others.[16]
Don and the others prepare to rescue Phil and the others. Don and other manage to go inside. They head to the elevator where everyone reunites. Ratri with the sisters and moms takes in the defeat of the children, and asks them to stand down and surrender but Isabella and other sisters and moms side with them and oppose Ratri.[17] Don sees Emma reconciling with Ratri but he commits suicide. They succeeded in reaching the door to the world of human. When they came out they saw that the trio, Barbara, Cislo and Zazie had not come along. Gilda was hesitant about this but they understood them.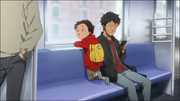 They succeeded in reaching the human world. They lived there peacefully, Don and Phil were on the train and Don was on his cellphone. Don and the others saw that the five had arrived after a few years and they were together again.[18]
Skills and Abilities
Archery
It seems like Sonju teach him how to handle and use a archer and he was able to learn. He can shot demons using archer.
Flexibility
Don has rather quick reflexes and is great at pickpocketing, as he was able to take Isabella's master key so that he and Gilda can get into the secret room and see what they can find out about Conny and the other children that left the orphanage. He did this by bumping into her and making it look like an accident, demonstrating that he's extremely quick as it was only a split second.
Physical strength
Being the physically largest and tallest of the children makes Don have an advantage with physical strength. In the anime, when Ray tries his best to beat down a door by kicking and ramming into it with no avail, Don breaks in with a single shoulder check and recovered quickly after falling down with the door. At the end of the Escape arc, Don is the one who secures the escape route by throwing a rope with several stones at the end across the cliff.
Relationships
I'll always help you! Anytime, anywhere you're in need!

— Don to Conny.[19]
Growing up together in Grace Field House ever since they were born, Don and Conny developed a very close relationship. Don loves Conny as a younger sister and was greatly protective of her, stating that he would always protect her. He would often spend time playing with her and help her with different things. Conny, in return, viewed Don as an older-brother figure and adored him, and was very appreciative for everything he did for her. Both parties were extremely sad to be parted, as Don broke down in tears when Conny left the House.
When Don heard the truth that Conny was shipped off and killed, he was extremely saddened and frustrated over the loss of his dear sister. He was especially furious with Ray since he knew about yet couldn't prevent it. However, Don was also frustrated with himself for not being able to protect Conny and the things important to him. Like Emma, Conny is one of Don's main motivations to fight for a future where children don't have to become demon food.
Gilda and Don were recruited together by Emma, Norman, and Ray to aid them in their investigation about the orphanage, the world outside, and how to escape. The two were seen to be supposed friends before the recruitment. They are proven to get along and work well with one another even better after they worked together in the escape plan. They also care about each other and are often seen by one another's side. Don trust Gilda greatly and is able to confide his fears and hopes with her. Likewise, Gilda is able to calm him down when he is angry or sad and comforts him whenever this happens, as shown when they both find out the truth about Conny and their other siblings that got shipped off.
Don and Emma grew up as close siblings in Grace Field House. Both get along well and care about one another. Emma also trusts Don, as he was one the few first people she recruited into their escape plan. Don is also happy that Emma had supposedly relied on him, but this soon changes after finding out that she had hidden the whole truth about the orphanage and that Conny had been killed. Don expressed his desire for Emma to have faith in him since they are family-- since they are siblings.[20] Don's words held great importance for Emma, and she later understood that their siblings weren't as childish or immature as she thought they were and proceeded to recruit them to the escape plan as well. After this, Don's becomes one of Emma's closest and trusted allies who aid her to the best of his abilities, and he looks up to her as their leader, and does the same, only vice versa.
Don views Ray as a brotherly-figure. Despite little interaction being shown at first, they become allies after Don is recruited into the escape plan. Despite their initial fall-outs after Don was exposed to the truth about the orphanage and everything else and since Ray had watched Conny be shipped off with knowing the truth, Don and Ray were able to work on it and help each other out.
Besides Emma, Ray is the only one who Don views as their leader, and he respects him greatly. Despite their differences in personality, they get along very well as close brothers and view one another as equals. This is especially demonstrated after their escape from Grace Field.
Don and Norman grew up as brotherly-figures. However, due to Norman's perfect scores, Don grew jealous of him and made Norman his self-proclaimed rival. He would often try to beat him in tag, but never succeeded in doing so. Despite their initial fall-outs, Don and Norman were able to work well together in the escape plan, and would often help each other out. Upon Norman's departure from the orphanage, he entrusted him to take care of Emma and Ray. Don agreed wholeheartedly and was saddened to see him being shipped off.
Don viewed Isabella as his one and only mother and loved her deeply. He was very attached to her, which is why he was extremely horrified and distrustful when he found that Isabella, had in fact, been raising them to become demon food, to the point where he used violence to show his disbelief. After coming to terms with this, Don's love for Isabella faded away, and now he sees her as nothing but a threat against him and his siblings. As Don's Mama in Grace Field, Isabella kept a close eye on him, but not to the extent of Emma, Norman, or Ray.
Gallery
Trivia
Don is ranked 11th in the official anime Popularity Poll that was announced after Episode 17
References