Jurassic World: Dominion Dominates Fandom Wikis - The Loop
Play Sound
The Cuvitidala Dragon is a creature spoken of in legend that is found in the Day and Night. It appears to be a demon in a draconic form, similar to Palvus with his monkey-like form.
The creature is first referred to shortly before Emma and her group leave to find the Cuvitidala, having been referred to in one of William Minerva's books in Shelter B06-32.
Appearance
The Cuvitidala Dragon appears to be some form of demon, with the signature horns and central eye or "core".
It has a dragon-like form, with a massive, scaly, muscular body and large wings. Its design also has a large, scaly tail with two thin, feathery, ribbon-like tails on each side. Its eye contains odd, mysterious designs. Its color(s) are unknown, as it has not appeared in any canonical colored art as of yet.
Plot
It has served no real importance in the plot thus far, only having been briefly encountered by Emma when entering the Day and Night through both the Cuvitidala and the Seven Walls. Likewise, it has no developed personality either. It is mostly seen accompanying Him.
Relationships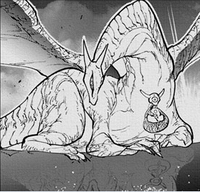 The Cuvitidala Dragon is often seen at his side, indicating that they are close.
Emma encounters the dragon twice. It seems comfortable getting rather close to the human, flying right underneath her. Oddly enough, it expressed no desire to eat her, unlike Him.
The Dragon was present when Julius Ratri made The Promise.