Chucky (チャッキー, Chakkī) is one of the minor character of The Promised Neverland and a recurring character from the A Letter from Norman light novel.
History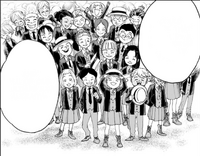 He was one of the orphans who formerly resided at Grace Field House Plant 3 as one of the many foster children of Isabella before he was shipped out. Chucky used to wet himself at night.[1]
Appearance
He is a fat child with short light hair and long bangs.
Personality
He is very reserved and not talkative.
References