This article is about the Manga version of Chris. For alternate pages referred to by this name, please click any of the icons above.
Chris (クリス, Kurisu?) / Christie (クリスティー, Kurisutī) is a 5-year-old orphan who formerly resided at Grace Field House Plant 3 as one of the many foster children of Isabella. Due to his age, Chris is considered as one of the house's "low-quality goods".[5] He was brought into the escape plan by Emma two months after the truth of the orphanage was revealed.
After his success of escaping Grace Field alongside 14 other orphans, Chris now seeks to find William Minerva, whom he and his team believe can grant them the liberty to live a safe and peaceful life away from the demons. Chris spends most of the second half of the story in a coma due to being shot in the head by Andrew and his team when they raided the shelter.
Appearance
Chris is a young boy with light skin and a pair of round indigo eyes. He has short, slightly spiked dark blue hair which is lighter at the roots. He wears the standard Grace Field uniform- a plain white long sleeved button-up shirt and white pants along with brown boots. His identification number, "70394", can be seen on the left side of his neck.
In 2047, Chris stopped wearing the standard uniform when he arrived at the shelter where he found new clothes. He began wearing long, black pants, a black shirt, and a long white-colored coat together with the old brown shoes he wore at Grace Field House.
History
Chris was born at Grace Field on May 15, 2040 and sent to Plantation 3 a year later in 2041, growing up along with several other children under the parental care of Isabella.
Personality
Chris is described as a very curious young boy.[2] He enjoys playing pretend and is very cheerful, outspoken, and has a deep attachment to his siblings, and gets along well with Emma and Ray. He is also very considerate as he thinks of others before himself.
Plot
Taking daily tests, playing a game of tag, eating scrumptious homemade food and having a good time – Chris went through the same routine every day in Grace Field House, an orphanage he has been living in since he was born.
During a game of tag, he was caught by Krone. He was also seen participating in the training sessions under the disguise of playing.
As one of the youngest children, Chris was one of the last people recruited into the escape plan after hearing about the truth of the orphanage, the House, and Isabella. During the escape, Chris was the first one to greet Emma after she caught with the rest of the children.[6] Chris and his siblings escape from Grace Field House Plant 3 on January 15, 2046.[7]
After escaping Grace Field with his siblings, Chris and the others started looking for location B06-32 with some help from Mujika and Sonju; in which later they found out it is a hidden shelter in the wasteland. Upon reaching Shelter B06-32 like the rest of the children, he took refuge in it for more than a year.[8]
Chris was seen being overjoyed after Emma woke up from her coma following her battle with Leuvis. He also drags Mister to Emma and urges to him to talk to her.[9]
After the shelter was raided by Andrew and his team, Chris was fatally injured when Andrew shot him in the head when he was escaping through a tunnel alongside the other escapees.
Due to the infection on his wounds, Chris almost died. Fortunately, Anna and Emma found medicine for him to recover. He was later taken care of by Vincent in The Paradise Hideout. For the subsequent weeks, he is stuck in a coma.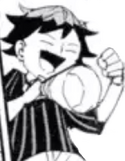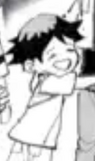 After Emma implemented her Promise, Chris, still stuck in his coma, was able to safely arrive in the Human World. However, at some point during the two years the family spent on searching for Emma, Chris woke up from his coma. Over the next two years spent in the Human World, Chris began attending school. During spring 2049, he finally reunites with Emma again and cries tears of joy, even though she lost her memories.[10] In the special epilogue chapter Dreams Come True, Chris lived out his dream of watching a soccer game.[11]
Relationships
Emma and Chris grew in Grace Field House together. Chris views Emma as an older-sister figure and admires her. He has an attachment for her and cares about her deeply. Emma also adores Chris and is affectionate with him. Both will go great lengths to make sure the other party is safe and well.
Chris gets along with the Grace Field Escapees, particularly the younger children such as Alicia, Jemima, Yvette, Rossi, Mark, and Dominic. They are often seen playing together, helping each other with chores and cheering for one another's accomplishments. He also gets along with Ray, as Chris cares for him and was upset with him for initially being fine with throwing away his life. Likewise, Ray is affectionate and very protective of Chris.
Trivia
The following are Chris' rankings in some of The Promised Neverland's official popularity polls.

In Shounen Jump's popularity poll results announced in Chapter 88, Chris is in 35th place.
In Shounen Jump's 2nd popularity poll results announced in Chapter 102, Chris is in 24th place with a total of 62 votes.

Chris' favorite food is omelets.[1]
Reference