Conclusion (決着, Ketchaku?) is the ninety-third chapter of The Promised Neverland manga.
Synopsis
After Leuvis stabbed Emma, Ray and the others sought to kill the Grand Duke and to avenge Emma. Meanwhile, Emma started to have a series of flashbacks and hallucinations as they gave her strength to stand up.
Plot
Ray recalled the times he had back in Grace Field House and he sees Norman and Emma as his closest friends in the orphanage. Ray's flashback was soon cut back to reality as he stared in horror of Emma getting fatally impaled by Leuvis. Leuvis dropped her onto the ground and patted her on her head, thanking her and saying how he bears respect towards her as he proceeded to fight Emma's devastated teammates.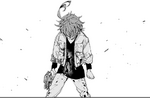 In Emma's unconsciousness, she started to hallucinate a series of events revolving around how the people around her had suffered when they lost to the Demons – several include Lucas and Mister, as they were sobbing over their deceased comrades; Oliver being comforted by Zack and Paula as he tearfully vowed to seek revenge on the demons to Lucas; Gillian crying over the death of her sister; a devastated Theo thinking about his deceased siblings.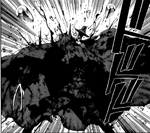 Emma then started to hallucinate the people she met back in Grace Field: her orphan friends who escaped with her, Phil, Krone, Norman and eventually Isabella. This gave Emma strength as she stood back up onto the ground, enduring the stabs on her body as she alongside Ray, Violet and Nigel shot the Grand Duke.
Leuvis initially intended to dodge their bullets, but soon refused to do so as he openly got shot as blood splattered from his entire body. Mister gave the finishing blow as he shoots Leuvis in the eye. Leuvis fell onto the ground dead, filled with satisfaction with the fight he had.
Characters
Lucas (Emma's vision)
Walter (Emma's vision)
Annie (Emma's vision)
Dina (Emma's vision)
Oliver (Emma's vision)'
Zack (Emma's vision)
Paula (Emma's vision)
Gillian (Emma's vision)
Gillian's sister (Emma's vision)
Theo (Emma's vision)
Gilda (Emma's vision)
Don (Emma's vision)
Sherry (Emma's vision)
Thoma (Emma's vision)
Lani (Emma's vision)
Nat (Emma's vision)
Anna (Emma's vision)
Jemima (Emma's vision)
Phil (Emma's vision)
Krone (Emma's vision)
Norman (Emma's vision)
Isabella (Emma's vision)
Research Elements
Community content is available under
CC-BY-SA
unless otherwise noted.