Hide and Seek (かくれんぼ, Kakurenbo?) is the seventieth chapter of The Promised Neverland manga.
Synopsis
Emma learned about Lucas' past and his intentions of getting rid of Goldy Pond; Ray and Mister ventured into the abyss of Goldy Pond to rescue Emma.
Plot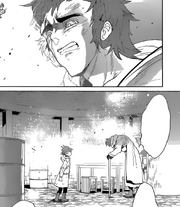 As Emma noticed Lucas, she thought of how he might have connections with Mister, and hence questioned whether he knew him. A seemingly petrified Lucas than explained how he did not have the nerves to ask Emma about his old friend. When Emma simply nodded, signaling the fact that the man is indeed alive, Lucas was saddened, as he broke down into an emotional state.
As the two settled down in a place, Lucas shared with Emma about his past confrontation with the poachers. Recalling back the events that had happened 13 years ago. After Lucas had demanded his friend to escape, Leuvis cleaved off his right arm, leaving a helpless Lucas hiding under a tree, as he groaned in pain over the loss of his arm. A girl then came up to Lucas, and provided him aid and safety. Lucas from that day onward had been living in the windmill, as the only people who knew of his existence are the 10 kids, Emma and that girl, who is now dead.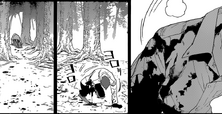 As Lucas recalled all the suffering the girl, the orphans in the Goldy Pond and his friends had gone through, he vowed to bring an end to the hunting park. Lucas then guided Emma to a secret passageway, which linked from the windmill to the forest. The latter then demanded the pen that Emma has, explaining how it is the key to open the door which belonged to William Minerva.
Meanwhile, as Ray and the man struggled to escape from the poachers, the man told Ray how they had arrived in Goldy Pond, as they prepared to venture deep into the abyss of the hunting area.
Characters
Research Elements
In this chapter we have the following Research Elements:
Trivia
Community content is available under
CC-BY-SA
unless otherwise noted.