Beyond Destiny (運命の向こう岸, Unmei no Mukōgishi?) is the one-hundred and eighty-first and final chapter of The Promised Neverland manga.
Synopsis
Two years after moving to the human world, Emma shops with the man whomst country was destroyed in the war. Norman, Ray and the other children have looked far and wide, but are guided by past family when drawing near to their lost friend.
Plot
Ray, Norman, and the rest of the children have tried to search for Emma for two years, but without much progress. Gilda suggests looking in forbidden zones, and everyone decides to cover different areas. Back from the last chapter, Ray, Gilda, and Phil are revealed to be in the same town as Emma. However, they do not find her and consider looking somewhere else, but Ray suddenly senses Conny, Isabella, and Mister's spirits, wanting to guide him to Emma. Ray rushes through the market in an attempt to find Emma, but when he doesn't, he brushes it off by saying that may have been his imagination.
Meanwhile, Emma and her foster father are inside a shop. The man notes that Emma does not have her necklace, and Emma goes outside to search for it. When she finds it, she also sees Ray, Norman, Don, Gilda, and the other children in front of her. Everyone rejoices upon finding Emma, but Emma backs off, as she does not know anyone. Gillian notes that Emma doesn't have her numbers on her neck, and Ray comes to the conclusion that Emma has lost her memories and all of her connections with her family.
It is revealed that when Emma made the Promise with the Demon God back at the Seven Walls, she was sad over the price she had to pay to implement the Promise, as in forgetting her precious family. However, she also describes it as settling her selfish requests rather than a sacrifice, as it was her idea to avoid Norman's plan of the extermination of the demons. She thanks the Demon God for being able to give all of her friends and family a happy future where they don't have to live in fear.
Back to the present, Don and Gilda breaks down in tears and tries to make Emma recognize them, but Emma pushes them away. Phil concludes that Emma truly doesn't remember them and that she is scared of what is happening. While everyone is struck by sadness due to Emma's forgotten memories, Norman begins crying tears of joy. He explains that even though her memories are gone, he's glad that she's alive, happy, and healthy. He describes the new situation to her; every child has begun going to school, the Lamda kids are starting to feel better due to a new medicine developed with the help of the technology of the human world and Adam's special DNA. Using that medicine, the children of the mass production farms don't need the help of respiratory systems and can even walk on their own. Norman also mentions that Mike Ratri is a neutral person who is acting as their guardian, that Ayshe hasn't killed him "for now", and that Chris has woken up from his coma. Norman then thanks Emma for making sure that their family was able to live a happy life, and assures her that her decisions turned out to be great. Even so, Norman is saddened by Emma's forgotten memories, as he had actually wanted to have her with them, smiling with them.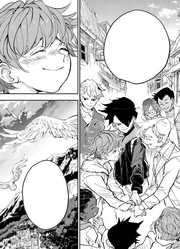 Emma suddenly begins crying herself, and she mentions that even though she doesn't know anyone of them, she feels like she had always wanted to see them. The other children exclaim that they wanted to see her as well, and that they missed her so much. Norman tells Emma that it's fine even if she forgot all about them and if she is different from who she used to be, because everyone still wanted to be with her regardless. The story ends with Emma, Ray, and Norman, holding hands while surrounded by all of their friends and family, promising to live on together.

Characters
Community content is available under
CC-BY-SA
unless otherwise noted.