Not to be confused with this subject's father, Bayon.
Bayon (バイヨン, Baiyon?) is an antagonist of The Promised Neverland series. He is the son of Bayon.
Plot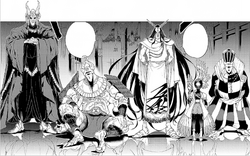 On November 2047, in the Imperial City, Bayon stood in line with Pupo, Yverk, Noum and Dozza as they wait for the arrival of their queen Legravalima. Bayon reprimanded Dozza and told him to stand up. Dozza did not listen and instead reciprocated his rebuke. Pupo interjected the two's interaction and commented on how Bayon is as rigid as his father. The topic of conversation soon switched to a discussion on how Luce, Nouma, Nous, Bayon and Leuvis, had disappeared one and a half years ago. Dozza asked Bayon on his opinion on this subject, to which the latter replied by asking what are his implications. Not long after, Legravalima entered the room where Bayon and the rest stood as all of them bowed down to her.[2]
Legravalima brought up the topic of the recent rise of the Factory Farms's theft rate. Bayon shared his view and opinions on the topic, and commented on how Lambda and other related farms had also been raided and destroyed, and actions should be done to cease the theft rate.[3]
He was later killed by Geelan after the latter infiltrated the Royals to get revenge.[4]
Appearance
Personality
Relationships
Gallery
References
Community content is available under
CC-BY-SA
unless otherwise noted.